The selection below represent a series of projects designed for a wide range of clients. From an individual brief from a singular musician, i.e.: 'Andra Sparks', to the series of booklets commissioned by the General Medical Council on Guidance for Doctors. My work for the GMC over a period of ten years included exhibition stand graphics, leaflets, registration documentation, web/info graphics and posters.

Each of the projects below required working out a specific brief before commencing the design process. Behind each project is a story of editorial development as ideas and concepts were refined until completed for publication. The design process was a continual 'conversation' of images and text between client and designer until the final objective is achieved for content, layout and design.


All the projects below (apart form 'Knoydart' in 1988) are taken from the period 2000 - 2012 after which I became project leader at Anasynthesis. See 'CLASSICS' menu for an overview. My work in graphic design before this particular period is featured in my work in feature film title design: 'WORKING IN FILM' and also covered extensively on my 'CV' page (see menu above).

Captions to each of the projects below are 'above'.

1. Andra Sparks. Jazz musician. Promotional posters and A4 trifold introduction to Andra and her ensemble of jazz musicians. The A4 trifold leaflet has always been a popular choice for many publications and over the years. I have designed many for a variety of clients. Photography by Christina Jansen.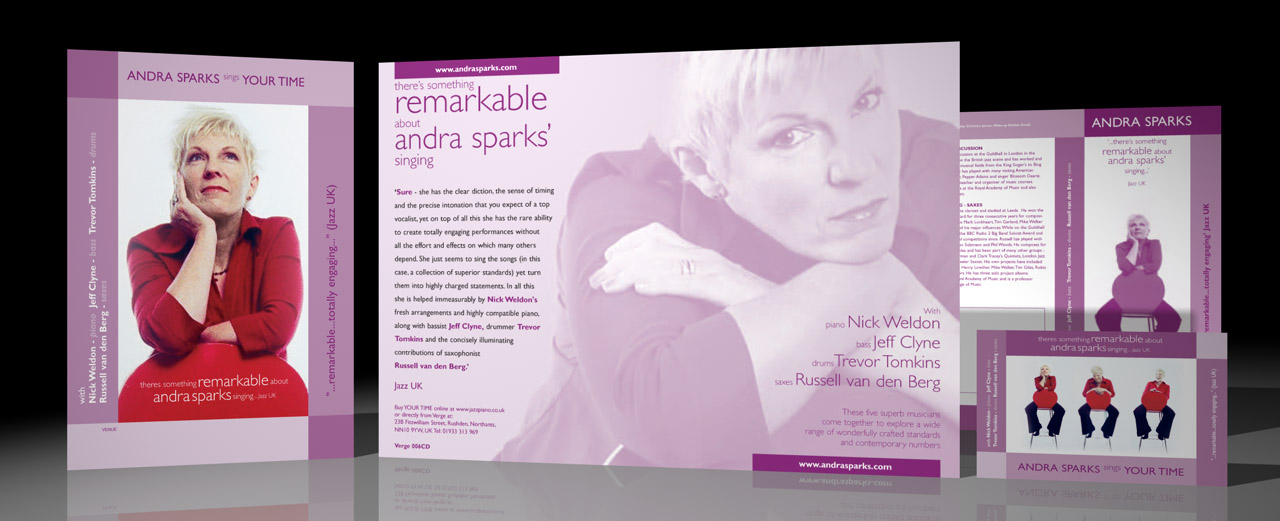 2. In the rings with Ali. Promotional posters celebrating Ali at 70. Featured during the UK Olympic Games of 2012 and afterwards in a series of country wide exhibitions. The project was envisaged and created by photographer Christina Jansen who met Ali in the mid 1980's for a photoshoot in London. From 2012 onwards subsequent web updates, posters, exhibitions and a booklet publication celebrate the legacy of Ali to a wider audience today.




3. Living with the Moon. Multiple digital and web publicatiions. An lifestyle approach to living with the ever changing cycles of the Moon. A4 50 page digital pdf publication. The project also required an informative monthly calendar with symbols representing the best time for a series of activities during the monthly period. Website design that started as html transitioned to the Joomla CMS platform and now as an online Wordpress website currently published by the client.




4. The General Medical Council. A4 and A5 print publications. Between 2000 to 2009 I worked on various GMC projects - from exhibition stands to web and offset litho print media. In 2005 the GMC published an A5 booklet: 'what will doctors be doing in 2050?' and I designed the 36 page publication inclusive of 3D and 2D futuristic illustrations to highlight each article introduction. The cover is a robot holding a strand of DNA in a protective sphere (shown below). The second image below features an A4 trifold and a A4 GMC general policy document as well as a series of A5 publications for the guidance of doctors (last image).






5. Andrew Dandridge. Artist. A4 promotional booklet. Andrew is a very successful land and seascape painter. As well as the design for the booklet, I also designed his logo and html website - which he then edited himself for news and events.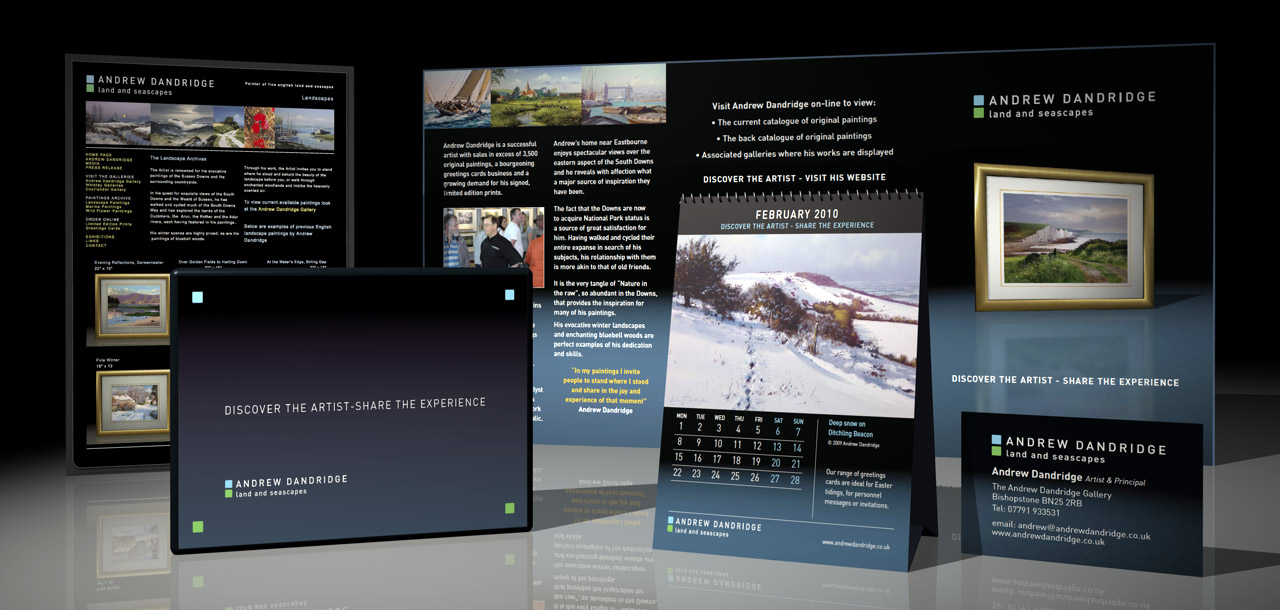 6. Knoydart Peninsula - classic sporting estate. A4 folder and introduction to the sporting estate. The project included my photography for a later a series of publications - taken when I was given a 'guided tour' by the estate manager, showcasing the facilities and scenery of this magnificent peninsula in Scotland (across from the Isle of Skye). The project developed from 1988 and for the next few years included subsequent visits to the estate for additional photography for a series of leaflets and promotional campaigns. Illustrator Linda Costello painted the watercolour for the front of the A4 folder and Heather Dankworth wrote the introductory text in liaison with the client.



7. Film Creative showcase. Interactive CD Rom and CD print cover. This was my only 'interactive CD' produced in 2001 for the photographic retouching and visual effects company that was Film Creative who worked for agencies and clients in advertising and promotion for print campaigns. It included an animation introduction to the art and 'trickery' in digital photo-manipulation, It was also my first professional html website commission designed and optimised for dial-up 56k modem access. Thankfully today we now have ultra - fast broadband.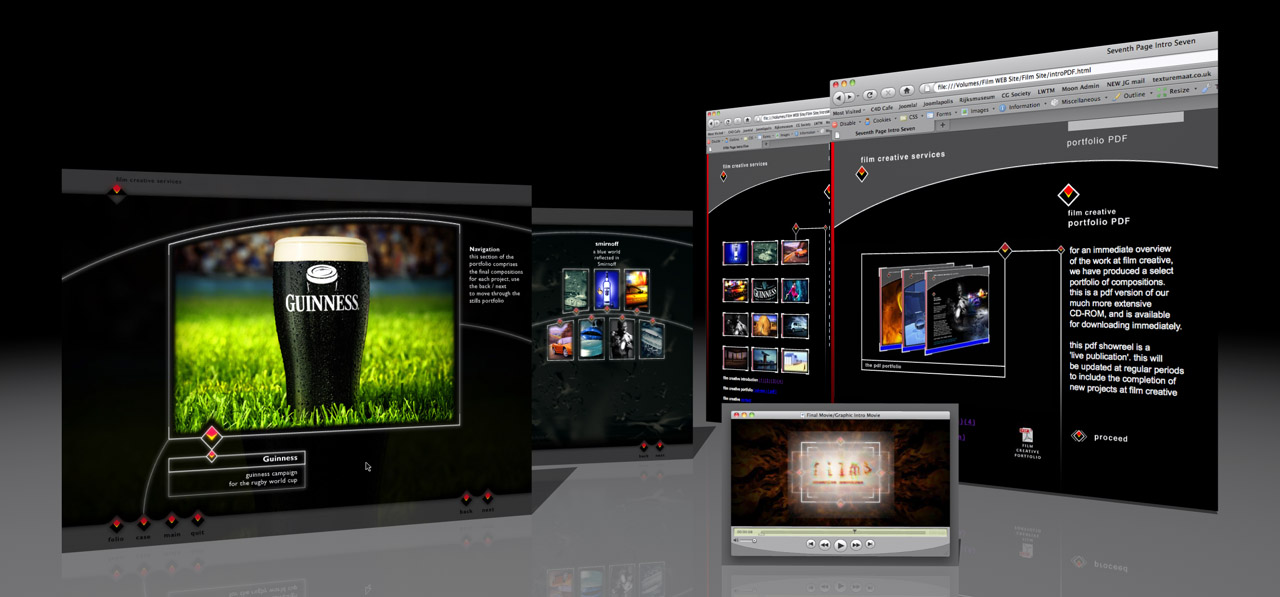 8. Voice and Data. Telecommunications specialists. My second commercial website. Designing the page layout and styling throughout the multi page website (liaising with the company html designer). This was a new company 'launch' in 2006. Inclusive of a full stationary range and later promotional flyers and posters.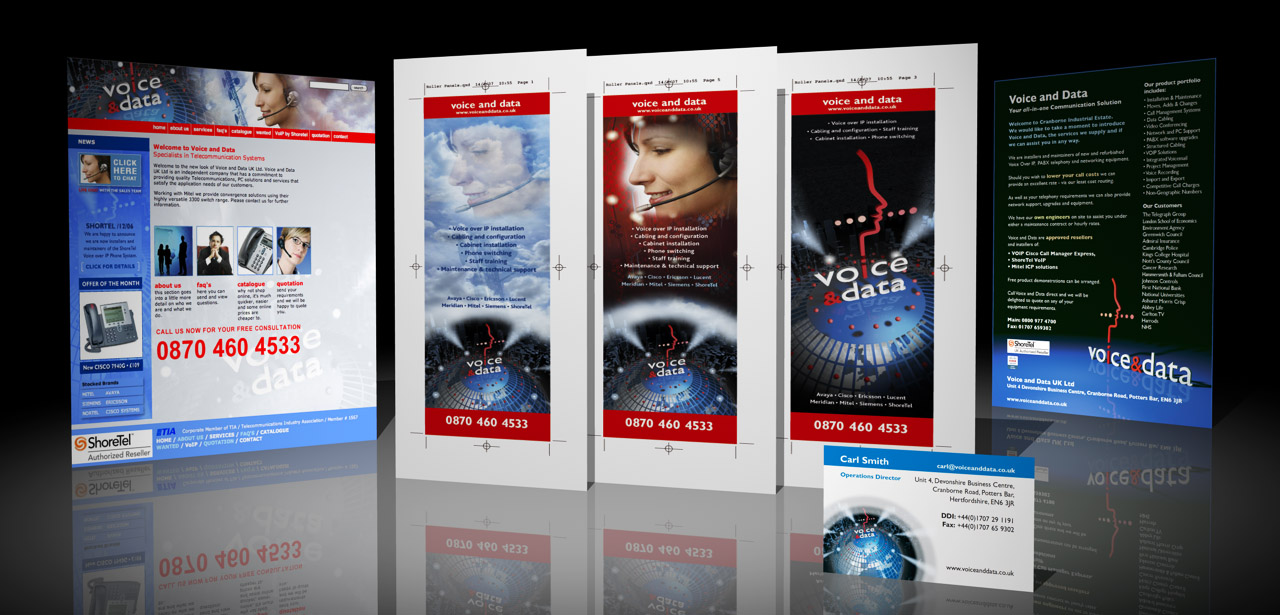 9. Involved events. An online american charity based in the USA. I was the UK webmaster throughout 2006 - 2007. Designing the style and html page layout for the promotion of events to raise financial contributions for UNICEF. I proved my services for free during the 12 month life of the project.