ALIENS. Directed by: James Cameron.
By mid year in 1986 I was working with Kent Houston of PEERLESS on the Barclays Bank commercial for Ridley Scott. After a meeting at my studio (Hieroglyphics) to revise the artwork being produced for the animated readout screens, Kent commissioned me to work with him on ALIENS. Previous to this meeting every optical vfx house around Soho was 'up for the gig'. I had already produced a series of concepts for the main title of ALIENS for Peter Govey and Aerial Image. This was a series of 'pitches' to obtain the attention of director James Cameron and win the title design. These were unsuccessful.

My role then was in designing the supportive main titles for which I completed and supplied PEERLESS with camera-ready rostrum artwork. These main titles were all produced on a 'Headliner'. This was a stand alone machine that produced very high quality typography on photographic paper. I had used one as an art director in the very early 1980's. Typesetting was used for the end credits - which were long and continuously revised right up to our final deadline.

The main title itself: 'ALIENS' was created, designed and produced by PEERLESS.

Working on ALIENS was one of the most rewarding collaborations of my career and I must thank Kent Houston for his support in negotiating the time required to finalise the end title credits. The changes were so frequent that I was phoning in text revisions every day - morning and evening - as more optical houses were brought in to complete the outstanding vfx for the final cut and release print. I also had the opportunity to see the landing drop-ship model and motion control test sequences at PEERLESS.

Later on I attended the crew screening in London with all the companies that had worked on the production. James Cameron and Gale Anne Hurd stood in front of us and thanked everyone involved with the film. I remember his words: 'I would like to thank everyone who worked on the production from the 'tea boy' upwards'.

Below: layout and main title typography. Notice the tight character kerning on the Sigourney Weaver credit.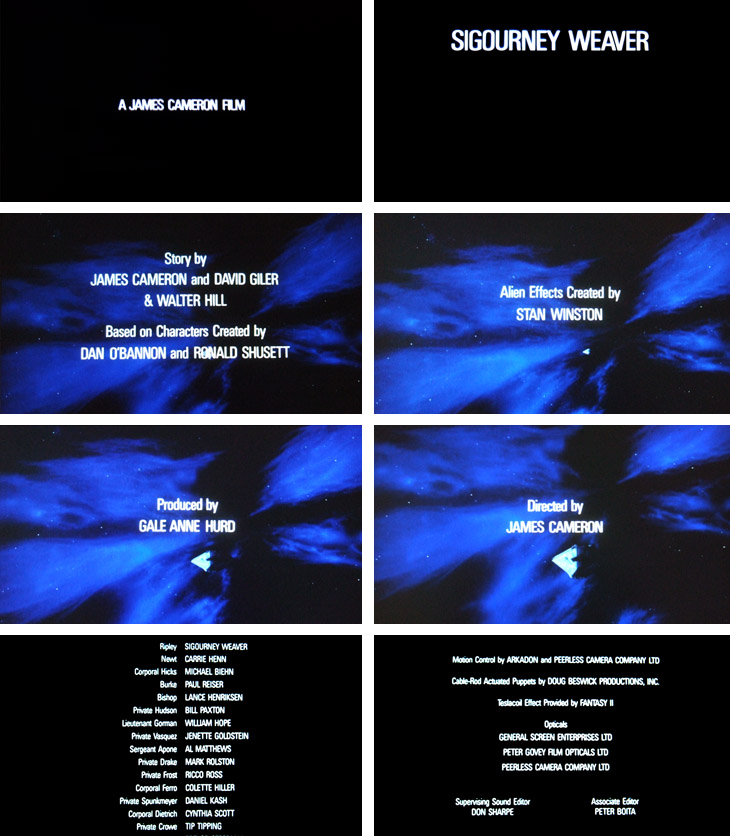 Above: the end roller with the last minute addition of Peter Govey Film Opticals to the Opticals credit. One of the many, many last minute changes and revisions to the end titles.