The Life of Stuff directed: by Simon Donald.

Not every film is a resounding success on initial release with the 'critiques'. Even an award winning play. Something
 mysterious has happened and the alchemy of transition has reversed. I met Simon Donald after he had directed his award-winning play - premiering at the Traverse Theatre, Edinburgh, 1993
 before appearing at the Donmar Warehouse in London. His concept for the title sequence was for a combination
 of concepts in space and time, particle paths and abstract visual graphic art - all within the blinking eye of Gina McKee. Simon had an open, enthusiastic and creative approach to experimentation during the story-boarding of the title sequence.
This was all created and animated in After Effects before producing the sequence as a combination of rostrum animation
 and then a final optical composite.





To achieve the effect of the 'blinking eye' of Gina McKee I produced three high res 5 x 4 inch transparencies. One had 
the eye closed, one half closed, one fully open (all created in photoshop). The three transparencies were then
 photographed on an aerial image rostrum camera. Mixing between each frame achieved our blinking eye.
 Simple and effective. At each 'blink' a new section of the animation 'within the eye' appeared.

The film was somewhat controversial on release and had a very mixed response. Although I did not get to see a 'cast and 
crew' showing of the full movie - I had seen 'extended scenes' when Simon was editing his feature.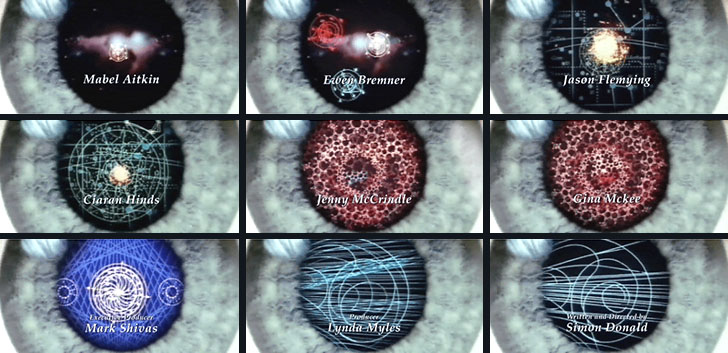 What I saw in these scenes was an atmospheric and commanding visual experience - I was sure at that time the film would 
be very well received by the public. This was not to be, and in a way is an interesting observation of what happens to an
 award winning play when transferred from one medium to the next. In this case - Theatre to film.

 My eventual hope for this film, is that it will become regarded as a 'cult - classic' in the future. 

The titles and optical effects were produced at Cine image film Opticals.